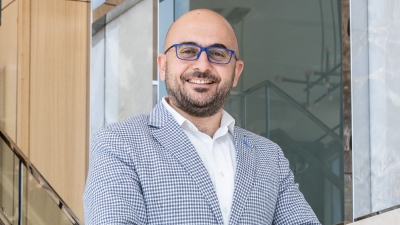 Iyad Mourad
Hotel Manager
"It takes zero effort to be kind and warm, and it is very rewarding to know you contributed to making someone's day better."
Four Seasons Tenure
Since 2002  
First Four Seasons Assignment: PBX Agent, Four Seasons Hotel Riyadh at Kingdom Centre
Employment History
Four Seasons Resort Oahu at Ko Olina; Four Seasons Resort Sharm El Sheikh, Egypt; Four Seasons Hotel Damascus (formerly a Four Seasons hotel); Four Seasons Hotel Riyadh at Kingdom Centre
Education
Bachelor Degree in Economics, majored in accounting
Birthplace
Languages Spoken
Originally from Syria, Iyad Mourad is a 20-year veteran with Four Seasons, and brings that wealth of experience to his role as Hotel Manager. In all of that time, his enthusiasm for the industry has not lessened. "One of the things I love most is meeting guests and getting to know people from diverse backgrounds and varied walks of life, and always finding common ground."
Beginning his career in 2002 at Four Seasons Hotel Riyadh as a PBX Agent, Iyad subsequently moved between multiple Four Seasons properties holding various positions in the rooms division and climbing up the management ladder to Director of Rooms. It's a position he served both at Four Seasons Resort Sharm El Sheikh and Four Seasons Resort Oahu at Ko Olina, where he stayed until joining the St. Louis property in 2022.
Iyad thrives in the constantly changing environment of hospitality. "No two days are ever identical, so each presents a new set of opportunities.  I see the hotel team as a family, and, like any family, we are stronger when we overcome challenges and move forward together," he says.
Outside of work, Iyad enjoys spending time with family who are his main source of strength, pride and happiness.  He loves St. Louis because it so family friendly with great schools, sport programs, and lots of great activities for kids. Plus, it is centrally located and makes a great base camp for exploring other areas in the region.