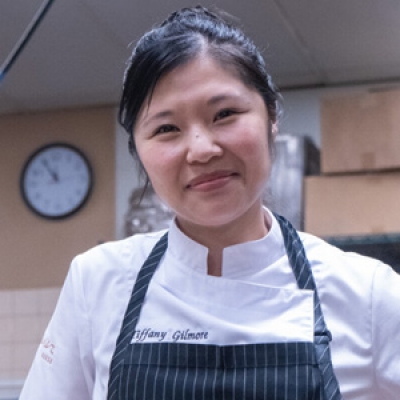 Tiffany Gilmore
Assistant Executive Pastry Chef
"Pastry is as creative as you are willing to make it; I love introducing guests to new flavours and desserts beautiful enough to first eat with their eyes and equally as pleasing at first bite."
Four Seasons Tenure
Since 2018
First Four Seasons Assignment: Chef de Partie, Four Seasons Hotel St. Louis
Employment History
Nathaniel Reid Bakery, St. Louis; Mistral Kitchen, Seattle; Spago, The Ritz-Carlton, Beaver Creek, Colorado; City Scents Floral & Home, Chicago
Education
Bachelor of Fine Arts and Bachelor of Arts, Art History & Archaeology, University of Missouri-Colombia; Certificate, Baking and Pastry, Kendall College
Birthplace
Languages Spoken
"It's all about the 'wow factor'," says Tiffany Gilmore of the eye-catching oomphs behind the sweet sensations that come out of the kitchen she oversees as Assistant Executive Pastry Chef of Four Seasons Hotel St. Louis. From striking patterns, to repetition of design elements, to sizes and shapes scaled to impress, there are myriad elements that Gilmore can use to fashion wowing desserts, and she has a lot of leeway for creativity.
"Gerard encourages creativity, introducing new flavours, styles and presentations," she says of Gerard Craft, the Consulting Chef behind the hotel's signature dining experience Cinder House. While business dictates the final products, Craft is happy to let Gilmore roll. "Pastry is as creative as you are willing to make it; I love introducing guests to new flavors and desserts beautiful enough to first eat with their eyes and equally as pleasing at first bite."
Gilmore's pastry team handles all bread and pastry for the entire hotel, including those for desserts, amenities, special requests, and banquets, which can range from small meetings to 700-person events.
Preferences for desserts vary: Cheesecake that Gilmore once fashioned from imported manchego and paired with sweet guava and blackberry sauce was a great fit for the South American theme of Cinder House, but it didn't sell as she'd hoped. "It was a little too sharp and a bit more savoury in flavour than a traditional offering – but I still stand by it!" Meanwhile, a traditional chocolate torte draped in dulce de leche is a big seller. "It's very accessible," she says, adding with a laugh: "You hit sometimes, and you miss sometimes."
Whatever her batting average, Gilmore strives for balance in every creation. Typically people think of sweetness for desserts, but the key is how all the elements work together. "I always recommend using sugar more as a spice and with restraint," she says, adding that to her mind the elements of "balanced" include sweet, salt, bitter, sour, and texture. "That's why so many people enjoy Snicker's bars. It covers every taste element."  
Born in Seoul, Korea, and raised in St. Louis, Gilmore was schooled locally and studied art in college. She focused on ceramics, enchanted by the process of mixing clay, building forms, letting them mature, and then firing them to a finish. "It's pretty easy to make a jump to baking from there."
First she headed to Chicago and jumped into floral design at a flower shop located just off the Magnificent Mile. The ephemeral quality of flower arrangements appealed to her, in the same way pastries do now. "Once you have created a floral arrangement, they are delivered and quickly leave your line of sight. I found this to be very satisfying. I prefer to keep creating and not have an opportunity to alter my own pastries and desserts."
Moving on from floristry, Gilmore earned a certificate in pastry and then headed west. In Beaver Creek, Colorado, she worked at a Spago, and in Seattle she landed at a restaurant that demanded different dessert menus daily. Within a year, she was head pastry chef, and the deeper she got the more she recognised the similarities to art that had engrossed her in college.
"Ceramics and pastry both start with raw materials that are molded scientifically and then change structurally and chemically when they're baked to create a whole new form." On top of that, there is a communal aspect to both that appeals to her. "Pastry is a community and that's very appealing," she says. "Everyone wants to help each other. If I need information, all I have to do is post the question and I'll get a plethora of answers from fellow colleagues within the industry."
Meanwhile, Gilmore holds advice from an early mentor of the floral shop close to her heart: That the clients for whom she created arrangements were allowing her to be part of their milestone occasions – and the opportunity should always be viewed as an honour. "I took this advice with me into pastry, and I still believe it holds true," she says. "Like flowers, we create desserts for people to mark special occasions. Let's make the moment as beautiful and memorable as we possibly can."