Back to Main
Four Seasons Hotel Abu Dhabi at Al Maryah Island
P.O. Box 107032 Al Maryah Island, Abu Dhabi, United Arab Emirates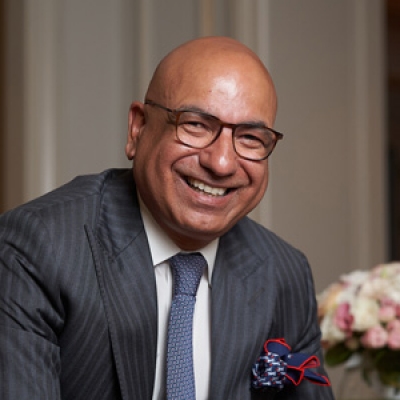 Bob Suri
General Manager
"Working in a hotel is like performing in the theatre. Our job is like our role in a play, guiding how we act and what we do. Our guests are the audience watching the show. Everyone pitches in equally and everyone collectively gives the performance. If we perform to perfection, we receive a standing ovation."
Four Seasons Tenure
Since 2004
First Four Seasons Assignment: Four Seasons Hotel Toronto
Employment History
Four Seasons Hotel Baku, Azerbaijan; Four Seasons Resort Dubai at Jumeirah Beach; Four Seasons Hotel Bahrain Bay; Four Seasons Resort Seychelles; Four Seasons Hotel Damascus (formerly a Four Seasons hotel); Four Seasons Resort and Residences Whistler; Four Seasons Hotel Toronto
Birthplace
Education
Graduate of Hotel and Restaurant Management, New Delhi; India
Languages Spoken
English, Hindi, basic Arabic and basic Italian
"I love inspiring our teams to perform at their best and share the Four Seasons experience with our guests." That's what gets Bob Suri excited about his role as General Manager of Four Seasons Hotel Abu Dhabi at Al Maryah Island. He's responsible for the outstanding service and seamless operation of this sleek waterfront tower, home to 200 guest rooms and suites and 124 Private Residences, along with destination dining and resort-style recreation.
Bob has worked in the hospitality industry for more than 30 years, and he's been part of Four Seasons for nearly 20 years in three different continents in six countries. His journey with the company started in food and beverage at the flagship property in Toronto, before moving as Director of Food and Beverage at Four Seasons Resort and Residences Whistler, delivering impeccable service standards at one of North America's leading ski resorts.
In 2008, Bob moved to the Middle East, leading the food and beverage experience at the former Four Seasons Hotel Damascus, infusing his skills with the traditions of Arabian hospitality and culture. He took over as Resort Manager at Four Seasons Resort Seychelles, then helped bring to life two new properties, Four Seasons Hotel Bahrain Bay and Four Seasons Resort Dubai at Jumeirah Beach. In 2019, he moved to Baku, Azerbaijan, for his first position as a General Manager.
Bob is extremely enthusiastic about his GM role in Abu Dhabi. "It's like a homecoming for me, returning to the UAE. Abu Dhabi is just a one-hour drive from Dubai, but it's a remarkably different experience. The city is now a cultural hub on an international scale – a unique distinction in the Middle East. There's The Louvre art museum, and architectural landmarks such as the Sheikh Zayed Grand Mosque and the Presidential Palace. Abu Dhabi is also moving forward with exciting new developments, such as the Abrahamic Center, which encompasses a mosque, a church, a synagogue and a forum, devoted to nurturing a mutual understanding of faith."
"I love the fact that Abu Dhabi is a multi-cultural melting pot and Four Seasons reflects that with our staff, representing 46 different nations – all from different cultural backgrounds and upbringings, all working together to provide an amazing experience for our guests. It gives me goosebumps to think about the fact that everyone wakes up each morning, coming together for one common cause – to create memorable experiences for our guests and for each other. For me that's very powerful."
"I have always believed that a hotel is like a watch," says Bob. "When you open the watch from the back there are many small parts working together tirelessly to show the time. I believe that no one is more important than the other; we all work together and do our part to ensure that guests get the best all the time."
"Many guests ask me about the Four Seasons magic formula – how we're able to create such a special atmosphere – and my response is always the Golden Rule: Do unto others as you would have them do unto you. That's the founding principle of Four Seasons as a company and the culture we've created around the globe. It gives a framework that allows all our individuals to express themselves. They can be their authentic selves and give our guests experiences through genuine heart. That is what makes our hotel company unique. Our team members feel personally empowered to deliver unscripted acts of kindness."
"What energizes me about my role as General Manager is the opportunity to transfer my skillset to the younger generation and watch them become successful. In every destination where I've worked, I have left a piece of me in the people, the community and the city. The power of human connection is what inspires me – our ability to impact each other in the most powerful ways. This is what the Four Seasons family is all about."
In his free time, Bob Suri loves cooking at home to unwind, as well as cheering his favourite cricket teams at the stadium or watching them on TV. With two sons studying overseas, Bob and his wife Sonia are enjoying Abu Dhabi as empty nesters, along with long-time four-legged companion Cuddles. They all enjoy exploring the city, the culture and the people. As Bob says, "I am excited to live in a new city following Manama, Dubai and Baku. As such, community outreach is very big for me. I love to feel fully connected to my surroundings."