Back to Main
Four Seasons Hotel Abu Dhabi at Al Maryah Island
P.O. Box 107032 Al Maryah Island, Abu Dhabi, United Arab Emirates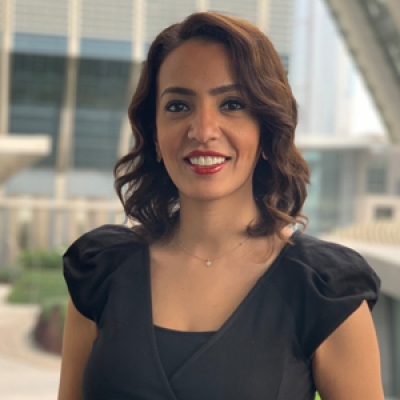 Shaimaa Elshimy
Director of Catering
"I could not have asked for more in life: being a significant part of a lifetime event, starting from scratch until all details come together resulting in a successful event is what makes me the happiest person in the world."
Four Seasons Tenure
Since 2007
First Four Seasons Assignment: Catering Coordinator, Four Seasons Hotel Alexandria

Employment History
Four Seasons Hotel Bahrain Bay; Four Seasons Hotel Alexandria          
Education
Faculty of Mass Media and Information, Cairo University
Birthplace
Languages Spoken
With more than 10 years in the hospitality industry, Director of Catering Shaimaa Elshimy knows what it takes to create a five-star event. From organising top Abu Dhabi society affairs to arranging high-powered meetings for global businesses, Shaimaa's attention to detail and personalised service make for unforgettable experiences.
As the Director of Catering for Four Seasons Hotel Abu Dhabi at Al Maryah Island, Shaimaa has perfected the art of creating dream weddings and successful business events in legendary Four Seasons style.
Shaimaa's roots in Alexandria, Egypt, run deep, where she learned the ropes of catering at Four Seasons Hotel Alexandria for 12 years in various roles before moving to Bahrain in 2016 to join the catering team as Assistant Director of Catering. During her tenure at Four Seasons Hotel Bahrain Bay, Shaimaa's catering expertise brought more than mere management experience to the catering game, including most prominently, contacts throughout the region.
"Having been in the hospitality and catering industry for more than 10 years, I have strengthened my awareness of the culture and established a strong personal network with a wide range of clients that vary from corporate business to royal families. This background allows me to bring a high level of professionalism, energy and passion to the team in Abu Dhabi."
Shaimaa inevitably plays a significant role of driving Hotel revenues by signing clients for meetings, gatherings and gala events, and then ensuring Four Seasons clients have the best experience possible.   
Vendor relationships are crucial to Shaimaa's job too. "I guess that's a big part of why I was hired here in Abu Dhabi," she says, noting her passion for maintaining relationships with florists, stationers, entertainers, wedding planners, photographers and musicians that she had previously made while working in Bahrain and Egypt.
 "I also believe that our Hotel location will indeed make us the best choice for the most upscale events in Abu Dhabi that will encourage us to further develop the ways we 'wow' our guests and create something extraordinary in the Hotel's light-filled ballrooms and meeting spaces."
Shaimaa grew up loving everything that is driven by passion. "Actually, my adventure into the world of hospitality started in a local café house where I read a Four Seasons job advertisement: 'looking for individuals with passion to serve'." This small paragraph in the local paper was enough for Shaimaa to jump into the hospitality world with joining Four Seasons Hotel Alexandria as Catering Coordinator.
In her capacity as Director of Catering at Four Seasons Hotel Abu Dhabi at Al Maryah Island, Shaimaa is responsible for the catering operations of two light-filled ballrooms overlooking the bay, and five naturally lit meeting rooms.
Outside of the office, Shaimaa is an avid Ahly supporter (Egyptian football team), she adores dancing, and going to the cinema as much as she loves eating (and cooking) traditional Arabic food.