Back
Discover the Secrets to an Unparalleled Experience in Costa Rica When Visiting Four Seasons Resort Peninsula Papagayo
Unlock the Destination of the Year 2024 with tips from the Concierge team as they share their most cherished adventures in Costa Rica
Costa Rica was named the Destination of The Year 2024 by Travel + Leisure magazine and to commemorate this accolade, the concierge team at Four Seasons Resort Peninsula Papagayo has provided the top ways to experience the land of pura vida.
Rincon De La Vieja, Mountain Biking
"Picture yourself embarking on an exhilarating biking journey along the slopes of a volcano," says Chef Concierge Lucas Madeiros. "If you're seeking adventure in Costa Rica, look no further than mountain biking at Rincon de la Vieja. Whether you are just beginning or an avid biker, join one of our expert riders to uncover the hidden gems and pro techniques. In this thrilling biking expedition, exotic wonders await at every twist and turn."
Land of the Senses, Sensoria
"I highly recommend exploring this private reserve, which is a true paradise filled with rushing streams, cascading waterfalls, soothing thermal hot springs, and stunningly vibrant blue rivers. They call it the 'Land of the Senses,' and I can't agree more. Sensoria is a sanctuary with limited access, and it's my favorite escape for a day of immersing yourself in the jungle's wonders," says Evelyn Urena, Concierge Supervisor.
Day in the Rainforest
"When you're planning a family outing, I highly suggest embarking on a scenic journey up the volcanic mountains, to reach the lush evergreen side of the country," says Carolina Masis, Concierge. "You can also opt for a memorable horseback ride. Alternatively, glide serenely down a glistening turquoise river, surrounded by miles of pristine rainforest. The best part is that the day is entirely yours to personalize with the assistance of our experienced team."
Surfing with SurfX
"I'd highly recommend grabbing a surfboard and hitting the waves with SurfX. Whether you're a newbie or an experienced surfer looking to hone your skills, you have the choice of some of Costa Rica's renowned surfing spots," says Maria Romero, Concierge. "Another water activity that I found truly thrilling is the e-foil experience. Whether it's your first time soaring on an e-foil or not, you'll gracefully glide above the pristine bays of Papagayo, and it's bound to provide the excitement you seek."
---
---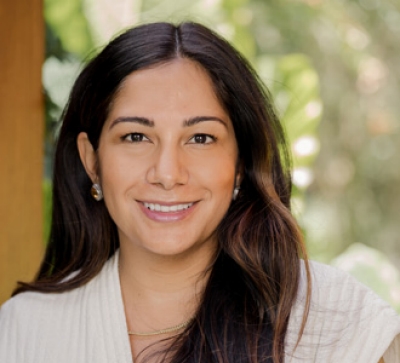 Melissa Quiñones DeShields
Public Relations Director

Peninsula Papagayo , Guanacaste
Costa Rica
---
Four Seasons Resort Peninsula Papagayo, Costa Rica
PRESS KIT

Visit Four Seasons Resort Peninsula Papagayo, Costa Rica Website