Back
Five Ways for Coffee Lovers to Indulge at Four Seasons Resort Costa Rica at Peninsula Papagayo
Discover how local coffee is integrated into the Resort's offerings
It's no secret: Costa Rica is a coffee lover's paradise. With the high altitude and humid climate, it's an ideal coffee growing environment. The country is ranked among the top 15 coffee producers worldwide, with more than 1.5 million bags of coffee produced each year. With Arabica beans harvested at high elevation, the volcanic ash in the soil acts as a fertilizer, and the coffee flourishes with the wealth of minerals and nutrients in the rich soil, contributing to a unique flavour profile. At Four Seasons Resort Costa Rica at Peninsula Papagayo, guests can indulge their love of coffee with several Resort-based experiences.
Coffee Tasting
Guests can heighten their senses and learn more about the preparation behind coffee making, and how different processes result in different flavours, in a coffee tasting class. Typically held in Pesce restaurant, the class is led by one of the Resort's main barista instructors. The tasting teaches guests several ways to prepare coffee, including Chorreado, traditionally brewed Costa Rican-style. The Chorreado is brewed with a coffee filtration process, coming from the Spanish verb chorear, which translates as "to drip," or "to pour." Hot water is poured over coffee in a bolsita (a little bag), dripping through to the cup, and resulting in a strong, fresh brew. This traditional style dates before the creation of modern brewing technologies yet is still widely used throughout Costa Rica. The class also teaches ways of enhancing the flavour profile of coffee, along with sampling many coffee varieties available from the country's eight coffee regions.
Specialty Coffees
At Anejo and Bahia, don't miss the chance to enjoy a specialty coffee. The expertly trained baristas can prepare a latte, cappuccino, mocha, macchiato, Americano, cold brew, French press or coffee Chorreado. Pair one's Chorreado or Americano perfectly with a chocolate croissant or cinnamon roll from the delightful breakfast bread selections offered at both Bahia and Anejo.
Coffee Spa Treatment
The Nourishing Costa Rican Coffee Scrub, USD 189 for 60 minutes, is a sensory delight for those who love the aroma of coffee. Using freshly organic ground coffee from the mountains of Costa Rica, it's combined with an infusion of whole vanilla bean and oil. This scrub increases circulation and improves the skin's texture and is concluded with a rich body moisturizer infused with cinnamon. Guests will leave this treatment feeling invigorated- and may have a craving to head to Anejo to enjoy a post-treatment latte.
Coffee Desserts
The Resort's talented pastry team creates truly incredible desserts, and several delicacies include an element of java. Two desserts on the menu at the Resort's signature Nemare restaurant are sure to delight the coffee lover. Don't miss the Creamy Banana, a banana cream dessert on a banana sponge cake with chocolate, caramelized banana, cashew nuts and a side of coffee ice cream. The Coffee Crème Brulee is a rich, sweet hazelnut-coffee flavoured dessert, served with fresh-baked Madeleine cookies.
Coffee Tour
Nearby in the Nicoya Peninsula countryside, guests can experience the Cultural Road Trip tour, arranged through the Resort's Concierge team. On this tour in Costa Rica's famed "Blue Zone" guests are led through traditional villages and agricultural areas. They will discover the journey of native coffee, from the coffee bean to the cup, experiencing a sustainable coffee cooperative and meeting local villagers. Participants can also taste locally grown foods and fermented beverages, better understanding the cultural connections of the local "ticos" to the food and the land, and how they strive to preserve their endangered cultural traditions. This day trip is one of the most popular excursions for guests, according to Lucas Medeiros, Chef Concierge.
---
---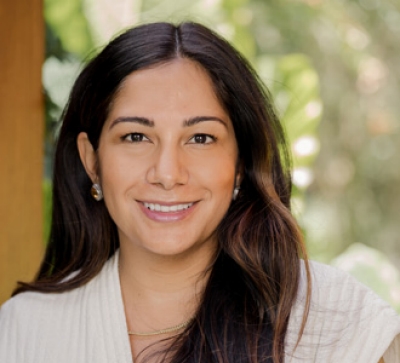 Melissa Quiñones DeShields
Public Relations Director

Peninsula Papagayo , Guanacaste
Costa Rica
---
Four Seasons Resort Costa Rica at Peninsula Papagayo
PRESS KIT

Visit Four Seasons Resort Costa Rica at Peninsula Papagayo Website