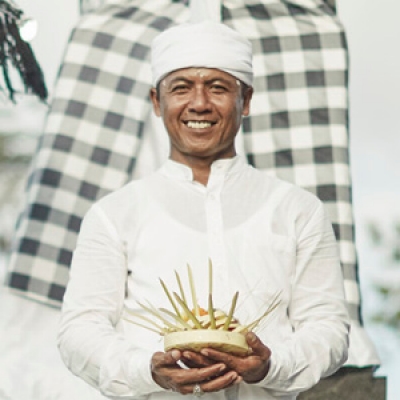 Ajik Ngurah
Resort Priest
"I enjoy being a cultural ambassador here and a spiritual leader for our staff, as an extension of my role in my village. I believe that knowledge will never increase if you never share it. I meet many people from all around the world every day and it's fascinating to introduce Bali's Hindu culture to them and to be part of their journey."
Four Seasons Tenure
Since 1993
First Four Seasons Assignment: Security Guard, Four Seasons Resort Bali at Jimbaran Bay

Birthplace
Languages Spoken
English, Indonesian, Balinese
Ajik Ngurah was not always a priest. He joined Four Seasons Resort Bali at Jimbaran Bay as a security guard when the Resort opened in 1993. Early on during his career, he started receiving signs and felt the calling to become a priest, but ignored it. A run of bad luck ensued; serious family illnesses and a major vehicle accident in 2004 were the catalyst for Ajik Ngurah's realisation that he could no longer ignore his true destiny.
He prepared to resign from his role as a security guard, however the Hotel created a new role to enable him to remain with the team while embarking on the path to priesthood. As the Resort Priest, Ajik Ngurah looks after the spiritual and cultural connections of both staff and guests. He is mostly found at the Resort temple, which has a central location just below the lobby as part of the Resort's Balinese village concept. Here, he conducts ceremonies, blessing rituals, temple tours and meditation practices.
Outside of his Resort role, Ajik Ngurah also fulfills his duties as an ordained Balinese-Hindu priest in his village and Jimbaran community. He is revered as a traditional healer for chakra rebalancing and energy clearing, and certified as a meditation teacher.