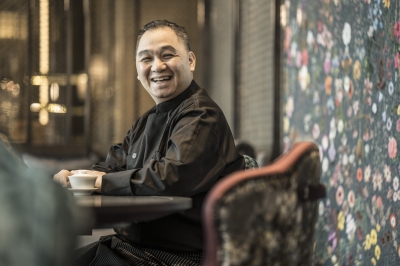 Jimmy Wong
Executive Chef, Yun House
"I'm passionate about all things culinary, specifically as it relates to honouring my Chinese culture."
Four Seasons Tenure
Since 2018
First Four Seasons Assignment: current
Employment History
The St. Regis Hotel Singapore; Shangri-La in Shenzhen
Birthplace
Languages Spoken
English, Cantonese, Mandarin
"Food is the ultimate connector," notes Jimmy Wong, Executive Chef at Yun House, the signature Cantonese restaurant at Four Seasons Hotel Kuala Lumpur.  "Ultimately, it connects us to each other, to family, to our past, to our future, and above all connects us to different cultures."
Guided by the principle of connecting people through food, Chef Jimmy has spent more than three decades uniting and dazzling travellers and epicureans alike with his authentic Cantonese cuisine.  "As a chef, I have the incredible honour – and responsibility - of orchestrating a connection.  Whether it be a familiar taste or smell, food ignites one's curiosity and memories, and allows you to gather around the table and share, and most importantly connect," says Chef Jimmy.
Renowned for his unwavering commitment to quality, Chef Jimmy brings a wealth of culinary expertise and an evolution of Cantonese cuisine with refined yet innovative flavours and presentations to Yun House, while also infusing artisanal presentations to complement the restaurant's modern and stylish atmosphere.  "I'm excited to carry on my own personal traditions at Yun House, presenting authentic Cantonese with an edge in a unique contemporary setting." Not only will the food ignite conversations, Chef Jimmy hopes his cuisine, balanced by the stylish atmosphere, will spark discussions around the table, for a truly memorable culinary experience.
A native of Hong Kong, Chef Jimmy's career has taken him throughout Asia honing his culinary skills at the finest hotels and resorts.  He has held previous positions in Singapore, China, and Hong Kong.  Chef Jimmy joined Four Seasons Hotel Kuala Lumpur most recently from The St. Regis Hotel Singapore where he held the prestigious position of executive Chinese chef, overseeing all culinary operations of Chinese cuisine throughout the hotel, including Yan Ting, the hotel's popular fine dining Cantonese restaurant.  Prior to The St. Regis, Wong served as executive Chinese chef at the Shangri-La in Shenzhen in China, overseeing all culinary operations of the hotel's Chinese cuisine.  During his tenure at the St. Regis, he won a prestigious television cooking competition broadcast on the popular CCTV-2 Network Beijing, which featured a contest between top French and Chinese master chefs.