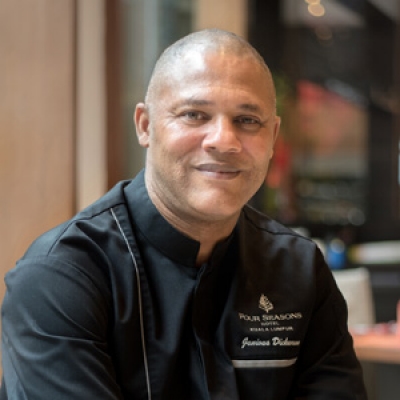 Junious Dickerson
Executive Chef
"My kitchen philosophy is 'extraordinary, beyond expectations': food is life, food that catches the eye, touches the soul and transfers my true passion into taste."
Four Seasons Tenure
Since 2015
First Four Seasons Assignment: Four Seasons Resort Maldives at Kuda Huraa

Employment History
Four Seasons Resort Maldives at Kuda Huraa; Hilton Phuket Arcadia Resort and Spa, Thailand; Intercontinental Mauritius Resort, Mauritius; Hotel Equatorial Penang, Malaysia; Nexus Karambunai Resort and Residences, Malaysia; Sutera Harbour Resort Country Club and Spa, Kota Kinabalu, Malaysia; and 13 years across various exclusive country clubs and hotels in the USA, his home country  

Birthplace
Education
Formal apprenticeship through American Culinary Federation (ACF); numerous culinary programs in some of America's most prestigious kitchens; Certified Safe Food Handler
Languages Spoken
Chef Junious Dickerson's dishes have featured in glossy magazines and cookbooks; he's appeared on TV and radio in the US; served royalty and heads of state; chaired food festivals and judged cooking contests; and it all began with a part-time job washing dishes at a members-only country club to pay his parents the monthly installments on his first car.
The club's chef would pull him into the kitchen during busy times and, recognising Chef Junious' talent, promoted and encouraged him. Straight out of high school, Chef Junious pursued a formal apprenticeship through the American Culinary Federation (ACF): the US's cooking authority. And so began a lifelong love affair with the camaraderie, cacophony and creativity of the kitchen.
"Cooking quickly became my way to express myself, be creative and show love," he recalls. "Through food, I can extend my personal take on hospitality, just as if I was welcoming someone into my own home.  It's engaging and fulfilling to serve others, working from your heart and creating memories with your hands."
Hard-working and determined, Chef Junious attributes much of his ever-evolving cooking style to his life experiences, both the hardships and highs. Inspired by everything he has ever seen, read, watched, loved or lost, his one constant through nearly three decades of culinary experience has been "personal cooking, from a heart that tells a story through food." He loves to challenge guests with cuisine that is different from what they ever thought they would like and encourages a "food is life" exploration that is as exquisite as it is eye-opening.
Chef Junious brings his "food is life" philosophy to Four Seasons Hotel Kuala Lumpur, defining the Hotel's collection of five unique restaurants and lounges, including the signature Cantonese restaurant Yun House; and the city's most coveted new mixology hotspot Bar Trigona; as well as the lively restaurant Curate where chefs take centre stage among the sumptuous buffet offerings; the resort-style rooftop Pool Bar & Grill; and The Lounge at Four Seasons offering traditional afternoon tea.  He also oversees the Hotel's in-room dining, banquets and special events division ranging from intimate groups to large programs of more than 600 people.
"My true passion in life encompasses all-things-culinary – from cultivating sustainable practices, working with local farmers to source the freshest and most exotic ingredients, to creating unrivalled culinary experiences for my guests," he notes, adding, "I look forward to bringing people together and creating an unforgettable sense of place through the Hotel's distinct culinary offerings."