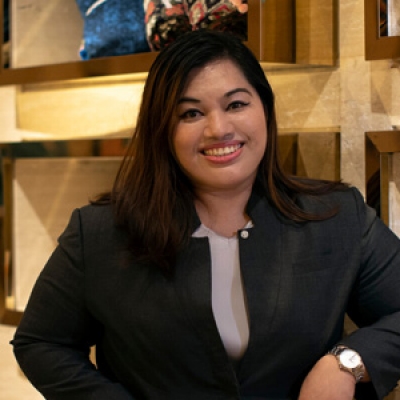 Rosa Akalynn
Spa Manager
"A spa day is not just a luxurious experience but a gift for your body."
Four Seasons Tenure
Since November 2018
First Four Seasons Assignment: Current
Employment History
The Danna Langkawi, Langkawi, Malaysia; Bon Ton & Temple Tree Resort, Langkawi, Malaysia; Mandara Spa, Maldives; Mandara Spa, Malaysia; Mandara Spa at Sutera Harbour, Kota Kinabalu, Malaysia; Mandara Spa at Club Med Cherating Beach, Kuantan, Malaysia
Birthplace
Kuching, Sarawak, Malaysia
Education
MBA from MARA University of Technology, Malaysia
Languages Spoken
English, Bahasa Malaysia, Iban
As Spa Manager, Rosa Akalynn leads the team of exceptional therapists at Four Seasons Hotel Kuala Lumpur and oversees the suite of spa services offered at the Hotel, including massages, treatments, salon services, yoga and seasonally inspired wellbeing programs.
With more than 10 years in spa operations and management, Rosa brings a wealth of experience and creativity to the table, with a vision to establish the Spa at Four Seasons Hotel Kuala Lumpur as a premier wellness destination.
Before joining Four Seasons, Rosa worked on the island of Langkawi for a few years, serving as spa manager at The Danna Langkawi and operations manager at Bon Ton & Temple Tree Resort. Prior to that, she spent over a decade honing her spa credentials with Mandara Spas. Starting out as spa manager at Club Med Cherating Beach, Malaysia, Rosa rose steadily through the ranks: in 2009, she became operations manager of 10 spa outlets in Malaysia, followed by a portfolio of 6 spas across the Maldives from 2015 to 2017.
Guided by her capable leadership, many of the spas in Rosa's charge have won prestigious accolades, including "Best Spa Experience" (Mandara Spa at Sheraton Imperial Kuala Lumpur) and "Best City Spa" (Mandara Spa at Sunway Resort Hotel & Spa). She also successfully led the pre-opening team of Chavana Spa at Adaaran Prestige Vadoo Resort, Maldives.
"For me, true wellbeing means bringing together the best of both worlds – from time-tested healing traditions and native ingredients, to the most cutting-edge techniques and products out there," explains Rosa. "Our Spa team blends various influences together to craft bespoke, deeply rejuvenating wellness and beauty rituals."
Perhaps Rosa's talent for combining diverse, beautiful elements into a unified whole can be traced back to her childhood years in Kuching, Sarawak – a vibrant, multicultural town with more than 26 ethnic groups, where most people speak at least 3-4 languages. "Each year, my hometown would host the World Rainforest Music Festival, and that's where I first discovered my passion for meeting new people and exploring new things," recalls Rosa.
A keen scuba-diver and cat lover, this proud Sarawakian now enjoys adventures in Kuala Lumpur – from diving with sharks at Aquaria KLCC, to making furry friends at the city's quaint cat cafes.