Back
Explore the Art of Four Seasons Hotel Madrid
The city of Madrid is legendary for its art museums and now Four Seasons Hotel Madrid has become an art destination in itself, showcasing nearly 1,500 paintings, photographs and sculptures. Just strolling through the corridors is like touring a gallery.
As in many Four Seasons properties around the world, the Hotel's art collection reflects the personality of the city and helps to bring the destination to life for guests. In Madrid, the complex housing the Hotel, Centro Canalejas, unites seven historical buildings – the oldest dating from 1887 – which have been fully restored and reimagined with chic, modern style.
To capture Four Seasons character, elite Madrid art curator Paloma Fernández-Iriondo, formerly of Sotheby's, was put in charge of assembling a one-of-a-kind collection. As Paloma explains, "To tackle the art project, it was necessary to reflect the history of the buildings and their 19th-century essence, but also to honour the 21st century and show a commitment to the local community today."
With all that in mind, Paloma began considering how to establish a collection that would be outstanding in concept and quality, while creating a dramatic juxtaposition of old and new.
For the historical component, Paloma collaborated with two of Madrid's most renowned art institutions, Museo Nacional Thyssen-Bornemisza and the Real Academia de Bellas Artes de San Fernando, which is located right across the street from the Hotel. Paloma selected ten historical plaster casts, portraying different botanical arrangements in classic style. More than 300 reproductions were made to decorate the guest rooms and suites.
Defining Four Seasons as a platform for emerging Spanish creativity was a more complex undertaking. To find the most exciting new artists, Paloma arranged a competition at fine arts schools in Madrid, Malaga and Seville. Over a four-year period, more than 500 proposals were submitted in the categories of painting, graphic work, work on paper, photography, work in plaster and sculpture.
Eventually 75 proposals were selected and reproduced to decorate the diverse types of guest rooms and suites – with artists including Inmaculada Bautista, Irene Pereña, Maria Elisa Rivera and Borja Torrent. To animate the building's long corridors, there's a mix of of photography, prints, paintings and sculptures, filling the halls with imagination and creating a delightful artistic journey for guests. These pieces are by such artists as Alina Carranza, Nerea Garzón, Franciso Serrano and Sara Serrano.
Other up-and-coming artists were commissioned to produce site-specific works to enliven the Hotel's most prestigious specialty suites, as well as the restaurants and public spaces – including works by Maite Carranza, Jesus Crespo, Eduardo Martin del Pozo, Elena Morales, Jacinto Moros, Jaime Sicilia and Sandra Val.
"If I had to choose my favourite pieces, it would be difficult," Paloma says, "but I must mention Starry Night by Eduardo Perez-Cabrero. It's an incredible installation of 1,500 small brass fragments placed on a curving wall beside the main staircase in the lobby. It's inspired by a constellation of stars – inviting guests to reflect on the shared experiences of humans, no matter their gender, race or geography."
"For the Spa, it was important to enhance the calm, relaxed ambience," explains Paloma. "Here we have a pair of sculptures by Jose Cháfer, a young artist who works extensively with stone and wood, taking inspiration from the textures and colours hidden inside the natural materials. His Curved Series pieces are very elegant, but at the same time very artistic."
Paloma also loves the modern pieces featured in the traditionally decorated Royal Suite, including the four-part piece called Radiation by Cristina Almodovar and the pair of impressive Light Boxes by Pilar Cavestany in the living area. "The contemporary art provides an amazing contrast with the opulent décor, and it really embodies the creative spirit of Four Seasons Hotel Madrid."
To explore the art collection in depth, the Four Seasons concierge team can arrange a personalised tour, explaining how these unique treasures capture the dynamic personality of today's Madrid.
---
---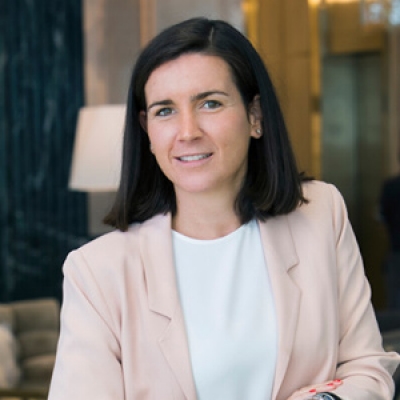 Marta Centeno
Director of PR & Communications
Calle de Sevilla 3
Madrid, 28014
Spain
---
Four Seasons Hotel Madrid
PRESS KIT

Visit Four Seasons Hotel Madrid Website