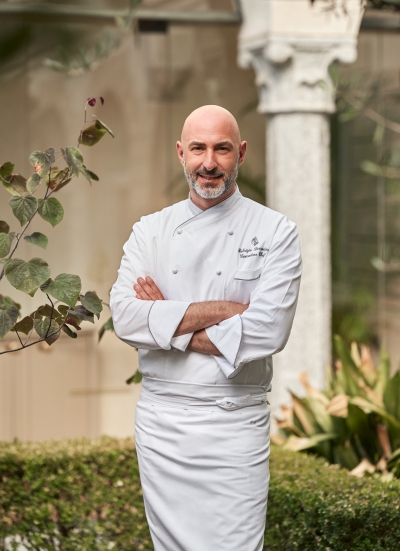 Fabrizio Borraccino
Executive Chef
"Come to Zelo, and you will have a small tour of Italy right at the table, and of Milan as well."
Four Seasons Tenure
First hired 2009, now since 2018
First Four Seasons Assignment: Sous Chef, Four Seasons Hotel des Bergues Geneva
Employment History
Borgo San Felice, Chianti, Italy; Pellicano, Porto Ercole, Italy; Four Seasons Hotel des Bergues Geneva
Birthplace
Education
Culinary Degree, Istituto Alberghiero di Pescara, Italy
Languages Spoken
"Come to Zelo, and you will have a small tour of Italy right at the table," says Fabrizio Borraccino, adding without skipping a beat, "and of Milan as well." As Executive Chef of Four Seasons Hotel Milano, Borraccino is quite keen on enlivening the signature Italian dining experience with the tradition and innovations of his native cuisine as well as the vibrancy of the fashion, design and, increasingly, culinary capital of Italy.
The newly renovated restaurant and its accompanying Stilla bar are inviting destinations to experience Borraccino's talent, with beautiful views of the Hotel's manicured courtyard from indoors and out on the garden terrace, new interior design details, and click-heeled Four Seasons-style service.
Lunch at Zelo is a lovely and relaxed affair, says Borraccino of the "simple Italian dishes" he prepares combining fresh vegetables, meat and fish. Everything is heightened at dinner, with intricate offerings such as Blue lobster, quinoa and vegetable salad, clams, hibiscus infused bisque and Carnarolo risotto "Gran Gallo Riserva", robiola goat cheese, green peas, candied lemon and capers served on striking tabletops illuminated by candlelight amid the swirl of front-of-the-house talent decked out in stylish uniforms that he describes as "friendly."
An "operational-minded chef," Borraccino is never happier than in the kitchen with his team. "I like to come in early and leave really late," he says with a laugh, adding, "I get a knife in my hand and I just cut." While he relies strongly upon his sous chefs to transmit his wishes in the kitchen, Borraccino really considers himself part of the team. "They learn from me, and I learn from them. It's good to get everyone involved."
Borraccino is enamoured with Italian cuisine and the products that take it over the top. He sources ingredients from their hotspots: white truffles from Alba, pasta from Puglia, raw ham from Parma, fish from Liguria, meat from Tuscany, and vegetables from all over. He is not shy about innovating with elements from beyond Italy's borders, either. "I love the spice!" he says of influences and techniques drawn from around the Mediterranean and beyond, including tandoor ovens.
Meanwhile, Milan is a huge inspiration. "What is this city but a mix of all of Italy? There is so much history, art and culture here, with twists of modernity on top. The vibe is the most cosmopolitan in the country."
Borraccino was initially inspired to the kitchen by his mother, with whom he cooked while growing up in the Abruzzo region along the Adriatic coast. "She still loves to cook, and I still learn from her – mostly regional recipes from Central Italy." The spark that really lit Borraccino's flame, however, was his schooling at a culinary institute in Pescara. He recalls his first look at the school kitchen during student orientation: "It was love at first sight, and I never looked back."
Following graduation, Borraccino headed to northern Italy where he found employment in Tuscany and worked alongside some great master chefs. The region was also a launch pad for travel into Europe, where he gained experience from celebrity chefs including Pierre Gagnaire in Paris and Gordon Ramsey in London.
Finally, in 2009, Borraccino landed at Four Seasons Hotel des Bergues Geneva, working as Sous Chef for the elegant Italian restaurant Il Lago. He loved the exposure to the workings of a large luxury brand, and he loved the city as well. "The spirit and enthusiasm in the kitchen was very strong," he remembers. "Quality was precise in everything we served."
Borraccino left Four Seasons a couple of years later and returned to Italy where, in 2018, he was honoured with his first Michelin star as Executive Chef of a Relais & Chateaux in Chianti.