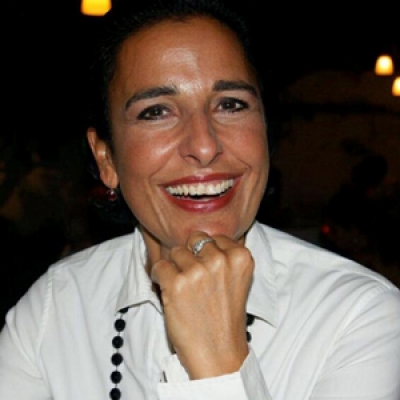 Serap Mesutoglu
Director of Guest Relations
"Far sentire gli ospiti a casa."
Esperienza in Four Seasons
Dal 1995
Prima esperienza in Four Seasons: Reparto Houskeeping, Floor Supervisor, Four Seasons Hotel Milano
Carriera
Relais Vignalem, Chianti; Ramada Hotel Istanbul  
Luogo di Nascita
Lingue
Italiano, Inglese, Tedesco, Turco
Con i suoi ventidue anni di carriera presso il Four Seasons Hotel Milano, Serap è la Director of Guest Relations dell'hotel. A contraddistinguerla sono la sua calorosa personalità ed il suo sorriso che brillano particolarmente quando accoglie gli ospiti e si prende cura di tutte le loro necessità.
Di origini turche, Serap ha iniziato la sua esperienza nel settore dell'ospitalità alla Austrian High School di Istanbul, e successivamente si è trasferita a Vienna con lo scopo di studiare Hotel Management alla Wirtschaftsuniversität Wien e di costruirsi un background internazionale.
Nel 1987 ha lasciato la capitale austriaca per lavorare in Toscana. "La prima volta che ho conosciuto gli italiani, con il loro sorriso e il loro modo di darti il benvenuto con un espresso o con un pezzo di focaccia, ho pensato che questo paese sarebbe stato il luogo perfetto in cui vivere e da cui trarre ispirazione."
Si è unita allo staff del Four Seasons Hotel Milano nel 1995 come Floor Supervisor, prima di passare al Front Desk con l'incarico di Receptionist. E in poco tempo, amando il rapporto diretto con gli ospiti, è diventata la Director of Guest Relations dell'hotel.
Nella sua posizione farebbe tutto il necessario per esaudire i bisogni degli ospiti e, non a caso, la sua missione quotidiana è quella di far divenire ogni desiderio realtà.
L'ospitalità è la sua passione e affronterebbe qualsiasi sfida per permettere ad un ospite di essere felice e di sentirsi veramente a casa. " Il mio obiettivo più importante è di creare una connessione con i nostri ospiti e di assicurargli le condizioni migliori per permettergli di sentire questa storica proprietà come un luogo in cui poter trovare amici, sentirsi rilassati e apprezzare tutto ciò che la città ha da offrire."
Serap ha un legame emozionale con gli ospiti che va ben oltre il lavoro. Riesce a suscitare la loro curiosità mentre li accompagna attraverso le mura dell'hotel con racconti sulla sua storia secolare oppure consigli sui migliori negozi in cui poter fare shopping.
Avendo iniziato a lavorare al Four Seasons Hotel Milano pochi anni dopo la sua apertura, il suo rapporto con molti ospiti dura da più di vent'anni, e, infatti, conosce tutti i piccoli segreti per farli sorridere al loro arrivo.