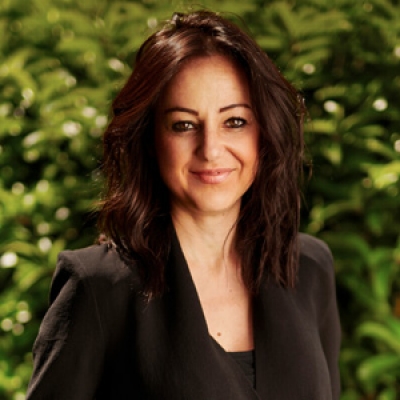 Silvia Brighenti
Senior Director of Marketing
"We're not just selling hotels; we're selling destinations. We need to need to be ambassadors for both."
Four Seasons Tenure
Since 2018
First Four Seasons Position: Current
Employment History
Hotel Amigo, Rocco Forte Hotel, Brussels, Belgium. Starwood Hotels – Greece, Montecarlo and Sardinia.
Birthplace
Education
Master in Tourism & Hospitality, Venice; Degree in Economics, Università Cattolica del Sacro Cuore, Milan
Languages Spoken
Four Seasons Hotel Milano and Four Seasons Hotel Firenze have been rooted in their respective cities for years, but Silvia Brighenti believes those roots can grow deeper. "I see a lot of great opportunities for us to become more and more ingrained here," she says, riffing on the former Hotel's long-running success in Milan. "We are very well positioned with a strong business base, but I want us to become even more Milanese. I'm meeting with a lot of great designers and galleries and museums to strengthen our connections to the city."
Indeed, since joining the Milan property in 2018 as Senior Director of Marketing, a position she also holds at its sister address, Brighenti has focused on establishing partnerships with cultural institutions to create exclusive experiential opportunities that bring Italy's design capital to life for guests. Those partnerships run a gamut, with offerings from special amenity bags for kids filled with art supplies from Pinacoteca de Brera, the main art museum in Milan, to exclusive private museum tours for adults that "reveal what's behind the canvases."
Silvia Brighenti is further focused on drawing locals to experience the magic of Four Seasons in their own backyard. Milan is dynamic city, she says, "and people here always want to see what's next. So even though we're well established, we need a vibe that gets people to come over and then come back."
She points to the Milan Hotel's new dining concepts under a newly appointed Michelin-starred Executive Chef that have transformed La Veranda and Il Foyer while maintaining their standout status on the local dining scene. She also mentions the innovations of Artistic Director Vincenzo Dascanio, whose annual "Urban Chalet" created in a fresco space turns the Hotel into a hot spot through the festive season. "The Chalet is our most Instagrammed feature! It brings a lot of locals through our door."
Brighenti appeals to different clientele in Florence. While Milan is buzzing with industry and the headquarters of major corporations, law firms and fashion outfits, Florence appeals to leisure travellers and locals focused on art, culture and history. Thus, Four Seasons is focused on showing the city in its own way through tailor-made experiences.
For instance, in 2019 the Hotel began marketing a "Florence Rhapsody" package with exclusive experiences that reflect the passions and interests of its management team. They include access to the only open-air terrace on the Ponte Vecchio, with a romantic dinner prepared by the Hotel's Michelin-Starred Chef served before views of the Arno River; dining in the privacy of a family-owned palazzo where Leonardo Da Vinci is believed to have painted the Mona Lisa, with a spectacular view of the Duomo from the table; a vintage automobile tour of Tuscany, or a seasonal boating experience on the Arno aboard a 150-year old Renaioli; and – the icing on the cake of the Florence Rhapsody – a hot-air balloon ride departing from parkland around the Hotel, with a pic nic waiting in the Tuscan countryside to delight guests once they land.
Whatever the Hotel, Brighenti leads her marketing teams the same way. "I really try to teach, share and encourage everyone to be curious and to know the cities we live in. We're not just selling hotels; we're selling destinations. We need to be ambassadors for both."
Brighenti travelled quite a lot while growing up, tagging along with her parents, a manager and an English teacher, on school holidays to museums and beaches and gardens through Italy and across Europe. She loved it, she remembers, but it could be tiring. "My dream was to spend two weeks on the beach, but we were always on the move and on our feet. Getting to the hotel was the highlight of the day for me."
After studying Politics and Economics at University, Brighenti landed a spot in revenue in the hotel division of a major international consulting firm. She liked the focus, she says, but she didn't like the distance. "It was a great experience to learn about the industry, but I was too detached from the hotels. I really wanted to be part of the onsite experience."
So she switched to sales and marketing, working at hotels in Europe and moving every three years or so to build experience across various destinations. Though beneficial to her career, it was also a sacrifice. "Every three years I had to change friends and countries. But what drove me was my passion. Every time I accomplished something, I'd say: 'Okay, what's next?'"
After more than a decade abroad, most recently in Belgium, Brighenti is happy to be part of the Four Seasons family. "In a lot of ways, I think I spent 20 years getting ready for this," she says. "If you'd asked my ideal, I would've always answered Four Seasons. I loved the process of getting here, and it has worked out for the best."