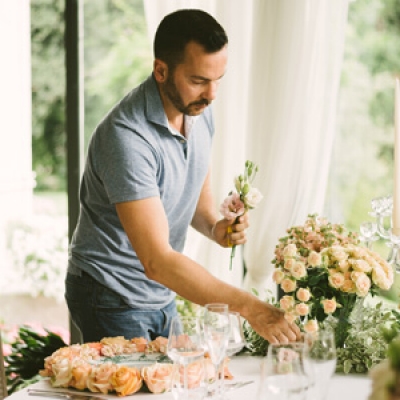 Vincenzo Dascanio
Artistic Director
"I'm a very curious person, always looking for the next thing to take my clients' breath away."
Four Seasons Tenure
Since 1997
First Four Seasons Assignment: Current
Employment History
VincenzoDascanio, Milan; Armani/Fiori, Milan; Sia Home Fashion Italia, Milan
Birthplace
Education
European Institute of Design (IED), Milan
Languages Spoken
There are two Four Seasons properties within the long length of Italy, and one Artistic Director between them. It's Vincenzo Dascanio, an original and eclectic designer of settings and events whose remarkable talent for floral decoration has earned him renown across the country and a place in the memory of every guest who has set foot in, cast eyes around, and breathed deep of the flowery fragrances integral to the experiences at Four Seasons Hotel Firenze and Four Seasons Hotel Milano.
"Each hotel is totally different from the other," notes Dascanio, from his artistic perspective, of the interiors he has been vitalizing for two decades and counting in Milan, and one decade in Florence. "For the Milan property, I always enjoy interpreting things in a different key, following the latest pantones and colour contrasts of fashion to transform the lobby into an environment that enhances the beauty of the location and keeps the Hotel innovative and fashionable."
And for Florence? "There the designs reinforce the historical building. My arrangements are not about decoration in Florence: The flowers are only instruments to accentuate the natural beauty of the place."
Based at his eponymous studio in the Porto Romana district of Milan, Dascanio is aided by a team of 25, with 2 dedicated to Four Seasons Hotel Firenze and 2 more to Four Seasons Hotel Milano. They spend their time piecing together arrangements, receiving flowers and other design elements from local and international suppliers, and maintaining the delicate beauties to look fresh and appealing for guests.
Dascanio visits each Hotel weekly to oversee new flower arrangements and looks forward to opportunities to interact with guests and management. "Or just to watch their reactions," he says. "I can tell a lot about a floral arrangement by the look in their eyes."
Arrangements appear in the lobbies, restaurants and other public spaces, and on an event-by-event basis for gatherings. Dascanio's Christmas-themed floral displays are must-sees in each city, especially in Florence where Four Seasons guests plan trips just to see them. He is also widely renowned for dressing up weddings and special events, transforming each property's onsite function spaces in spectacular ways.
Every flower arrangement Dascanio creates is inspired by a "keyword or an image" that the Hotels and their clients share with him and his team. "The enthusiasm and passion they communicate are what trigger my creative ideas."  The flowers themselves – he counts orchids, roses, tulips and hydrangeas among his favourites – are an expression of the client's happiness, he says, with colours, shapes, and textures fashioned to create the "wow factor" that distinguishes his designs.
"Surprise and amazement are the most difficult things to pull off," he explains. "I'm a very curious person, always looking for the next thing to take my clients' breath away."
Asked to describe his style, Dascanio laughs and replies, "More is more!" Even still, he is careful not to overwhelm. "The arrangements are meant to narrate and transfer the energy of the Hotels in ways that amaze."
Born and raised in Apulia along the Mediterranean coast of the heel of Italy, Dascanio studied at the European Institute of Design in Milan, and later became director of the floral arm of an Italian fashion and lifestyle brand.
The hospitality industry was a natural next step: Dascanio was tapped to create floral arrangements for Four Seasons Hotel Milano in 1997, and for the opening of Four Seasons Hotel Firenze in 2008.
Each city provides its own unique backdrop for his creativity, he says. "I think of Florence as poetry, refinement, drama, mystery and nobility, while Milan is wild, international, ambiguous, trendy and posh."
Even with years of experience and success, Dascanio admits that every arrangement is its own challenge – one that he is happy to accept, of course. "The complexity and anxiety of creating an installation can last for months. But they always vanish as soon as we start setting things up."