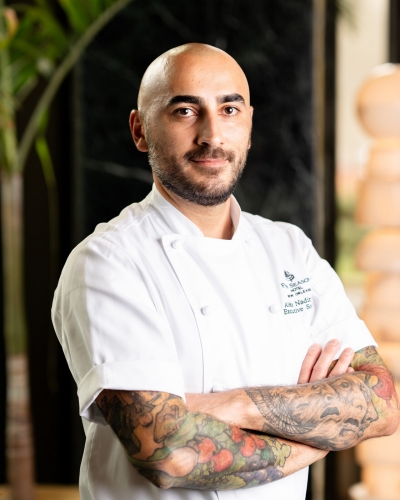 Aleksandre Nadirashvili
Executive Chef of Miss River
"I love being able to play a role in bringing our regional cuisine and southern hospitality to a global traveller."
Four Seasons Tenure
Since 2021
First Four Seasons Assignment: Sous Chef, Miss River, Four Seasons Hotel New Orleans
Employment History
Hyatt Regency, New Orleans Sixteen, Chicago; Jean Goerges Vongerichten Steakhouse, W Hotel, Washington, DC; St. Regis Saadiyat Island, Abu Dhabi, UAE; Sublime, Batumi, Georgia; Market by Jean-Georges Vongerichten, W Doha Hotel, Doha, Qatar
Education
Georgian Greek Tourism School, Culinary Arts Degree, Tbilisi, Georgia
Birthplace
Languages
Chef Aleksandre Nadirashvili's venture in the industry commenced in 2008 when he began his culinary education at the Georgian Greek Tourism School. Chef Aleks described his career path as a "happy accident." Prior to starting culinary school, Chef Aleks attended agricultural university. He then shifted his career path when he enrolled at the Georgian Greek Tourism School where his culinary journey and passion for cooking commenced.
In his career, Chef Aleks has worked under multiple Michelin Star awarded chefs and several hotels. Chef Aleks is an award-winning chef with more than a decade in the industry under his belt. He was awarded First Place in Hyatt's The Good Taste Series Global Culinary Competition, as well as a Bronze and Gold Medal in the Game and Poultry sector of the New Orleans Wine and Food Experience competition. Out of all of Chef Aleks' major accomplishments, he believes his proudest moment to be learning and perfecting his grandmother's recipes.
After making the move to New Orleans in 2018, he transitioned into a new role as sous chef at Hyatt Regency. In 2021, he joined Four Seasons Hotel New Orleans and helped open James Beard-Award-Winning Chef Alon Shaya's restaurant, Miss River. He is an asset to Miss River and his precision and consistency helped build the foundation it needed for success.
"My appreciation for this city and the team at Four Seasons grows more and more each day. It has been extremely fulfilling to see the success of something that we built from the ground up in a city where hospitality and quality dining means so much. I owe this city a huge thank you for showing me a new style of hospitality, and I love being able to play a role in bringing our regional cuisine and southern hospitality to a global traveller."
When Chef Aleks is not in the kitchen, he spends his time hiking and camping with his family.