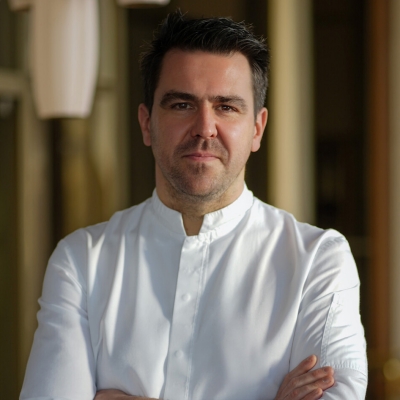 Guillaume Bracaval
Chef de Cuisine, est
"A good chef has to think like an artist. My creative spark can come from anywhere – from the market, from a little ramen shop or even from my wife's Japanese cooking at home."
Four Seasons Tenure
Since 2020
First Four Seasons Assignment: current
Employment History
Cuisines Michel Troisgros, Tokyo, Japan; Tateru Yoshino Ginza, Tokyo, Japan;  l''Agapé, Paris, France;  L'Ambroisie, Paris, France;  Pavillon Ledoyen, Paris, France;  l'Arpège, Paris, France;  Hôtel de Crillon, Paris, France
Birthplace
Education
Formation complémentaire traiteur, Lycée Hôtelier du Touquet, France; Baccalauréat Professionnel, Lycée Hôtelier Notre Dame de la Providence Orchies, France; Brevet d'Etudes Professionelles, Lycée Hôtelier Notre Dame de la Providence Orchies, France
Languages Spoken
"I want my food to create big emotions and big memories," says Chef Guillaume Bracaval, who brings Michelin-starred artistry and a passion for impeccable ingredients to est, the French-Japanese restaurant at Four Seasons Hotel Tokyo at Otemachi. "There should be a 'wow' moment when you take the first bite, not just when you look at the beautiful presentation. When a guest comes to me and says, 'I still remember the taste of a dish you made five years ago,' then I know I have succeeded."
Born in a tiny village in northern France, Bracaval found his earliest inspiration in his family's vegetable gardens and farmyard. It was there that he learned to love and respect the origins of ingredients, while in his mother's kitchen he delighted in kneading, stirring, roasting and baking. Little did anyone realise that young Bracaval was learning the tricks of what would one day become his trade – this childhood passion set him on a path that took him first to Paris, then halfway around the world.
As a teenager, Bracaval persuaded his parents to let him work part time at a local restaurant. "I think they were hoping I wouldn't like it because being a chef is not an easy job, even more so back then," he says, with a grin. As it turned out, he loved life in the kitchen. At 15, he began a rigorous culinary education at local cooking schools, then went on to hone his craft at 3-Michelin-star restaurants in Paris, working with luminaries such as Chef Alain Passard, Chef Christian Le Squer and Chef Bernard Pacaud. With a wealth of experience under his toque, Bracaval joined the 1-Michelin-star L'Agapé in 2009, where he created monthly menus around freshly procured ingredients. In 2012, he was handpicked by Chef Michel Troisgros to be executive chef of a Michelin-starred restaurant in Tokyo, where he became known for drawing out the full-bodied flavours of ingredients by the adept use of citrus, vinegar, olive oil, herbs and spices.
Now, at est, Bracaval presents innovative French cuisine, inspired by a deep respect for produce from the Japanese terroir. "Having grown up in the countryside, I understand the journey from farm to plate. We work with the highest-quality local producers and design our menu around seasonal availability," he explains. Travelling extensively across Japan, Bracaval has tracked down the finest ingredients for his kitchen – from fresh-caught fish supplied by a fisherman on Kyushu island, to more than fifty varieties of citrus grown on a farm in Wakayama prefecture.
Brimming with the richness of land and sea, the menu at est embodies a vibrant exchange between French techniques and Japanese craftsmanship. As Bracaval elaborates, "The base comes from my training in France, layered with influences from Japan, like dashi in the soup stock or the sushi-style preparation of fish." Dishes are light and presented in minimalist fashion, "not weighed down by excessive cream and butter." The open kitchen allows Bracaval and his team to showcase their culinary chops and interact with guests, creating a lively and approachable atmosphere – "this is fine dining with a difference." At the open-air terrace, drinks are served with a side of panoramic Tokyo views.
When he's not working, Bracaval is happiest in his role as family man, spending time with his wife and two young daughters. He loves to take the girls to parks, the zoo and small farms around Tokyo, keen for them to experience the harmonious influence of nature that imbued his own childhood. Even as he makes the most of this precious time with the family, Bracaval continues to be on the lookout for fresh inspiration. "A good chef has to think like an artist," he explains. "My creative spark can come from anywhere – from the market, from a little ramen shop or even from my wife's Japanese cooking at home." Despite his status as a culinary maestro, this chef makes it a point to keep learning every day.