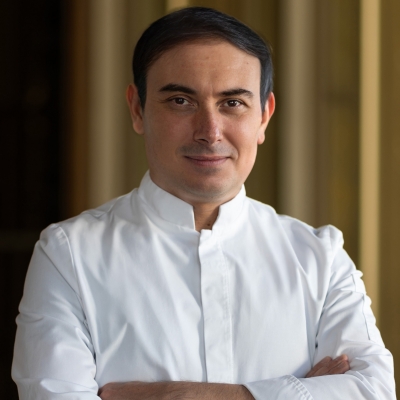 Michele Abbatemarco
Pastry Chef, est
"Tastes are like poems that speak to our palate. Just like with art, we can experience emotions with a dish. If that feeling becomes a lasting memory, then my work is completed."
Four Seasons Tenure 
Since 2020 
First Four Seasons Assignment: Current
Employment History 
Cuisines Michel Troisgros, Tokyo, Japan; Antica Osteria del Ponte, Tokyo, Japan; Antica Osteria del Ponte, Cassinetta di Lugagnano, Italy; Locanda del Sant'Ufficio, Cioccaro, Italy; Lucas Carton, Paris, France; Gualtiero Marchesi, Erbusco, Italy; Cafe de Paris, Montecarlo, Monaco; Chantecler at The Hotel Negresco, Nice, France 
Birthplace 
Education 
Pastry school at L'Ecole du Grand Chocolat Valrhona, Tain L'Hermitage, France; pastry school at L'Ecole Lenotre Paris, France; Certificate in Culinary Arts at Instituto Alberghiero Nuovi Ambasciatori, Torino, Italy 
Languages Spoken
Italian, French, Japanese 
From the vibrant markets of Monferrato in Ital, to the elite Michelin-starred kitchens of Europe and Japan, Pastry Chef Michele Abbatemarco has been on a fascinating culinary journey ever since he was a child. "Growing up in the countryside, I understood the true value of local, seasonal ingredients," he says. "My grandfather would often take me to the market. He was a loyal customer, a friend to all the vendors, so I got to taste and learn about many things at every shop. This helped my palate to expand and evolve very early on." 
Young Michele's interest in food took a creative turn when he stumbled onto the Michelin Guide at a local restaurant and discovered that great chefs were like artists. He learned to draw inspiration from the world around him, with Mother Nature as his very first muse, from the hilly landscapes of his hometown to its reddish earth hues. "After nature, I moved on to the artistry of man – painting, sculpture, architecture," he notes. "I love to reflect beauty in my dishes, and to play with different shapes, colours and textures." 
Now, Michele brings his freewheeling imagination and passion for superlative ingredients to est, the innovative French restaurant at Four Seasons Hotel Tokyo at Otemachi. With design being a key ingredient in his patisserie, each dessert is composed like a miniature work of art, imbued with a stunning palette and plated with precision. The goal, Michele explains, is for it to remain in the guest's heart long after it disappears from the plate: "Tastes are like poems that speak to our palate. Just like with art, we can experience emotions with a dish. If that feeling becomes a lasting memory, then my work is completed." 
Interestingly, it was only after graduating from cooking school in Italy that Michele discovered the more specialised joy of pastry-making. This new-found passion ultimately led him to Lucas Carton (3 Michelin stars) in Paris, where he found "the highest expression of gastronomy" under the legendary leadership of Chef Alain Senderen. While in Paris, Michele met the greatest representatives of French pastry and visited the boutiques of these masters, increasing his knowledge of the craft at every step. Upon returning to Italy as pastry chef at Antica Osteria del Ponte (2 Michelin stars), he applied the lessons from his childhood as well as his youth, combining French-style rigour with meticulously sourced Italian ingredients. In 2005, he moved to the Tokyo branch of the same restaurant, followed by a rewarding tenure as pastry chef at Cuisines Michel Troisgros – his most recent role prior to joining Four Seasons. 
While Michele's foundation in pastry-making is decidedly European, the move to Japan changed his perspective, leading to a years-long process of studying local ingredients, understanding Japanese culture and reviewing his personal recipes. "I learned to respect the seasons and the colours that represent them. I focused on making my dishes light and balanced. And I found beautiful local ingredients to incorporate into my dishes," he explains. In his kitchen at Four Seasons, Michele cooks with premium Japanese products supplied by small farms, including wasanbon (Japanese sugar), gyuhi (rice paste) and kanten (seaweed jelly). Not to mention myriad fresh, locally harvested fruits, used creatively to reflect the 72 micro-seasons in Japan. 
At est, dessert isn't viewed as a separate, unrelated component of the meal. As Pastry Chef, Michele works closely with Chef Guillaume Bracaval on the seasonal degustation menus, sharing new ideas and participating in the culinary process. "We are creating an exceptional table in Tokyo, a reference point for gastronomes, where everything works in harmony from beginning to end," notes Michele. Most importantly for him, each dish that emerges from his patisserie "must please the eye but, above all, the palate – not vice versa."