Back to Main
Four Seasons Hotel Shenzhen
138 Fuhua Third Road, Futian District, Shenzhen, 518048, China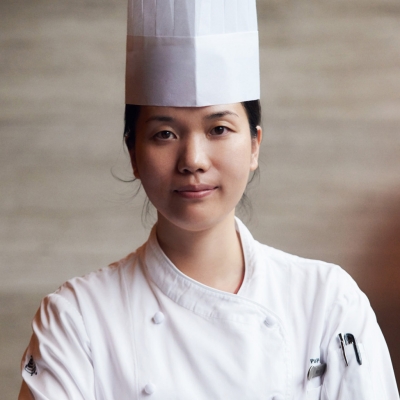 Mary Liu
Executive Pastry Chef
"Inspiration can burst out anytime and anywhere in the little moments of life. As a dessert lover, I am inspired by city trips, industry trends and even my children."
Four Seasons Tenure
Since 2013
First Four Seasons Assignment: Current
Employment History
Sheraton, Shenzhen, China; Four Points by Sheraton, Shenzhen, China; Crowne Plaza, Shenzhen, China
Birthplace
Shantou, Guangdong, China
Languages Spoken
Four Seasons Hotel Shenzhen Pastry Chef Mary Liu began her culinary career as a dim sum chef trainee before venturing into the pastry kitchen where she took on the role as commis chef under the tutelage of a French pastry chef, and honed her skills in the craft.
"The dim sum kitchen was situated next to the pastry team, so over time, I naturally developed an interest in their work, wanting to learn more about western pastries," she recollects.
A dessert-lover herself, Liu was intrigued by the growing trend of western desserts in China and made every effort to master the delicate techniques of pastry making. Now with more than two decades of experience, she leads the pastry team at the Hotel, developing masterfully intricate pastry creations that are inspired by her travels around the city, industry trends and her children.
"Inspiration can come from anywhere, little touch points from everyday routines. My children have plenty of requests, some of them so absurd, but those are usually the ones that forces me to think out of the box and be innovative; it is such a fulfilling creative process!"
Liu's passion stems from the enjoyment of teaching and bringing notable experiences to guests through her dessert creations. Nurturing talent is an area of focus as well as she believes that it is important to encourage and develop young chefs to elevate and raise the bar; combining quality, consistency and innovation.
Her current role as Pastry Chef oversees a team of like-minded professionals who are accountable for creating desserts and pastries at the award-winning all-day dining FOO restaurant, Chinese restaurant Zhuo Yue Xuan, Japanese restaurant Matsuyi, Yi Lounge and Executive Club, as well as the Hotel's banquet events.