Back
Hakkasan Triumphs with Exclusive Pop-Up at Four Seasons Hotel Madrid
July 5, 2023,
Last month, the renowned Hakkasan restaurant created an exclusive temporary pop-up at Four Seasons Hotel Madrid to leave diners impressed by a menu that was especially created for the occasion. With a Michelin star at four of its restaurants, Hakkasan is known for its innovative approach to high-quality Cantonese cuisine.
From Thursday to Saturday, June 22-24, 2023, Madrid became another venue for the highly anticipated "Executive Chef Dinner Series" by Hakkasan. For three days, ISA - the restaurant and cocktail bar located on the first floor of Four Seasons Hotel Madrid - was transformed into the culinary epicentre of this Michelin star worthy Cantonese cuisine. The Corporate Executive Chef of Hakkasan, Andrew Yeo, created an exceptional menu that raised this gastronomy experience to another level by combining authentic Cantonese recipes with contemporary influences.
This culinary partnership was yet another stop on a successful tour by Hakkasan around Europe, and the first in Spain. Following careful consideration, ISA at Four Seasons Hotel Madrid was selected as the perfect partner for continuing this tour due to the large base of Spanish Hakkasan followers and the Hotel's constant commitment to offering unique haute cuisine opportunities to its guests and local residents.
Adrian Messerli, General Manager and Regional Vice-President of Four Seasons Hotel Madrid, says, "This was a unique opportunity and we are extremely excited to have hosted such an exclusive three-day culinary journey at Four Seasons Madrid. Hakkasan is an international benchmark in gastronomy, which not only continues to position this city as a world-class tourist destination but also puts the Hotel on the radar for locals and overseas visitors looking for world-class cuisine. The entire team is tremendously satisfied with how well this experience worked."
Hakkasan has become known for mixing authentic Cantonese recipes with contemporary influences, and its unique approach to Chinese cooking has captivated diners around the world. For that reason, Madrid was a highly requested venue for the prestigious "Executive Chef Dinner Series" culinary tour. Responsible for overseeing the menus at all the Hakkasan restaurants around the world (including the four restaurants that currently hold a Michelin star), Chef Andrew Yeo created an exclusive menu especially chosen for this opportunity in Madrid.
Talking about the pop-ups series, Andrew Yeo says, "We are thrilled with the welcome Hakkasan received in the culinary Mecca of Madrid. Our partners at ISA and Four Seasons worked very closely with us to produce a series of incredibly successful Michelin star worthy dinners for our loyal guests. The fact that we were full every night of the event is incredible and demonstrates the strong appeal of the Hakkasan brand."
Chef Andrew Yeo, whose creativity and experience have reaped great success for the Hakkasan restaurants, personally oversaw this temporary project in Madrid. Under his management, four Hakkasan restaurants have earned or kept their prestigious Michelin stars, making him a venerated figure in the world of haute cuisine. With more than 20 years of experience in the sector, his command of Cantonese flavours and his commitment to using the highest quality ingredients were reflected in the meticulously prepared dishes.
The menu that was exclusively created for Madrid showcased the brilliant culinary talent of the Hakkasan brand using local ingredients in perfect combination with Cantonese traditions with a modern touch. Each dish was a work of art, painstakingly prepared to take diners on a journey through the vibrant flavours of Cantonese cuisine. From the crispy duck salad with grapefruit, pine nuts and shallots to the wagyu beef with black garlic shui mai as small bites to begin the experience and such more elaborate creations as the Iberian pork char siu that is slow roasted for 24 hours or the grilled Patagonian hake with honey and baby broccoli, every dish was a delight for all the senses.
The signature cocktails created in the ISA laboratory were the perfect accompaniment to this exceptional menu. Miguel Pérez, Head Bartender of the restaurant and cocktail bar, selected four creations that combined technique, cutting-edge style and innovation for drinks that were easy to enjoy with highly recognisable flavours. Of note was the Yoghurt cocktail, made with Roku gin, strawberry lactofermentation, re-distilled lemon thyme and coco water.
---
---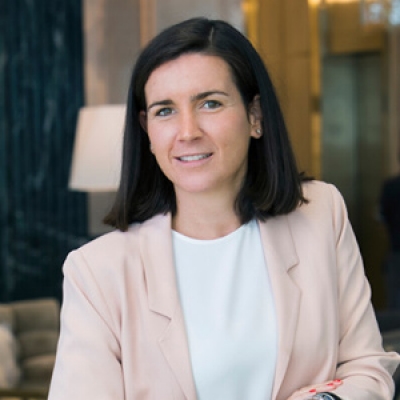 Marta Centeno
Director of PR & Communications
Calle de Sevilla 3
Madrid, 28014
Spain
---
Four Seasons Hotel Madrid
PRESS KIT

Visit Four Seasons Hotel Madrid Website